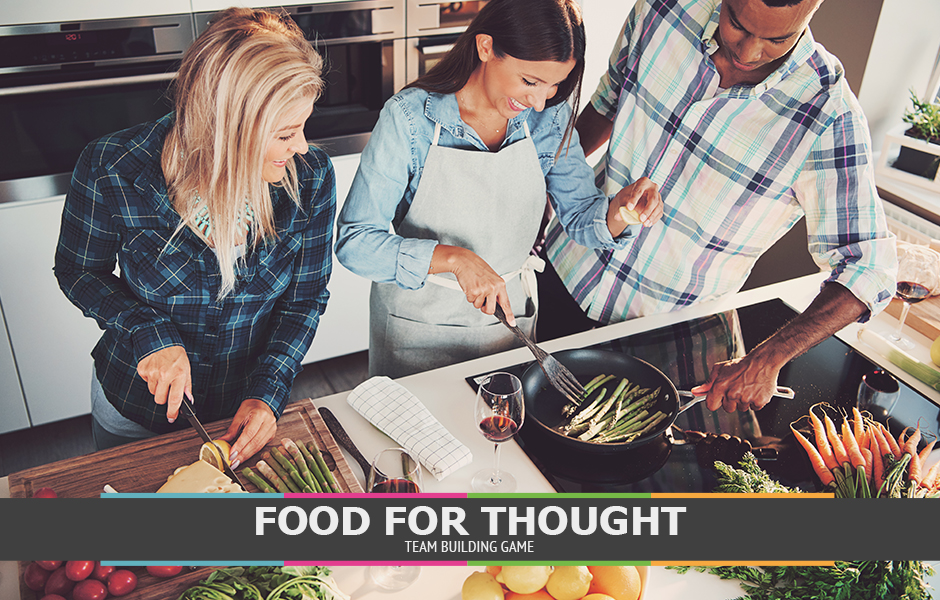 Food For Thought
In 'Food for thought' the participants put themselves in the position of the kitchen crew of an in-vogue restaurant. Divided into six teams, they need to provide the restaurant with an impressive menu, composed of the most fantastic starters, main courses and desserts. Under the watching eye of the chef, the teams fight each other for the tastiest dishes and the best ingredients! Which team can surprise everyone with exciting combinations and special delicacies?
In this hot kitchen battle, only the best ingredients are good enough for the teams! But to buy in ingredients, the teams need to be in possession of three means of payment, which are divided over the teams. To get the right ingredients, the teams will have to consult one another, work together and negotiate. In other words, to achieve their goals they need each other!
Dinner is served!
After the game, everyone's welcome to take a look in the master chef's kitchen. Anyone interested can even take over the role of the sous-chef. During the game, the chef has been peering over the shoulders of the teams and will now draw inspiration from the teams' dishes for the dinner. A unique game that is even rounded off with a unique dinner!
Recognise it? Haute Cuisine as a metaphor!
Within a company, too, different teams work together on a common goal. Naturally, each team also has its own targets. That can result in friction among them, because both the common goal and the targets have to be achieved. With 'Food for thought' as a metaphor (different teams, one menu as the final goal and each its own dishes), participants learn that collaboration is something quite different from 'working together'. In the evaluation of this Teambuilding Game we can, if that's what you want, go into more depth on the goals you've set and make a clear link to your operational practice.
Get the most creative side out of your employees during this Teambuilding Game. Ask for an offer without obligation. Customizing is also possible!
Food for Thought is a fun and interactive live game. The game is closed off by a lovely diner. Whoever prefers, can assist the chef (and learn from him).
We can play this culinary business game at a lovely cooking studio.
From 5 to 100 contestants (with more contestants we need to check with the location)
With our team we had an incredibly fun and informative afternoon. We were challenged in small teams to both work together and to get into competition with each other. The result, our own menu, was then conjured up together with the professional chef. A great close for a great day!
Fill in the contact form stated below and receive more information on this Business Game.