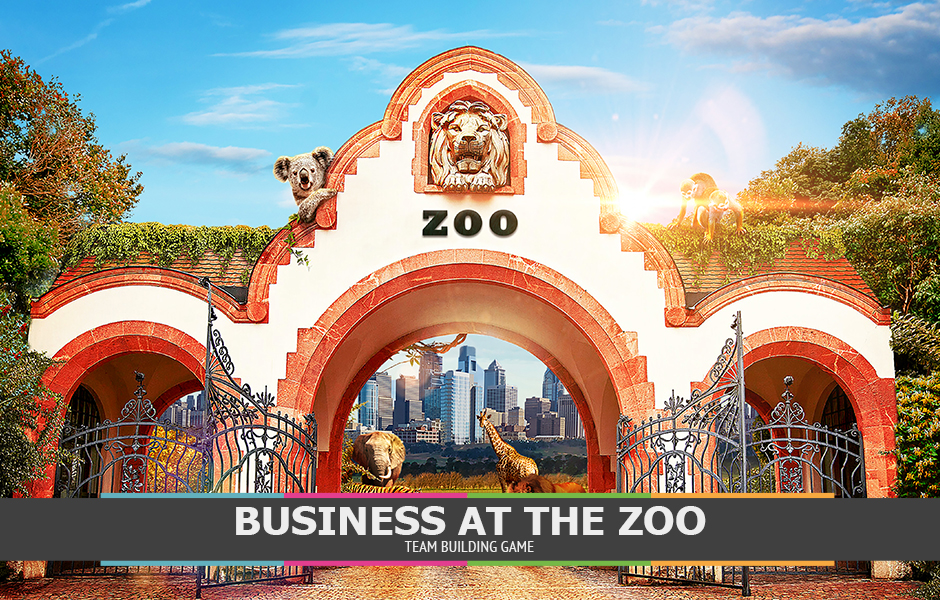 Business at the Zoo
Direct the zoo
Always wanted to know how zoos manage to get the right mix of impressive animals? In the business world of 'Business at the Zoo' you find out. Put yourself in the position of zoo managers, media agencies and safari parks and discover for yourself what these people have to deal with in their everyday lives. By means of negotiation, collaboration and healthy competition the teams take on the challenge to achieve their goals and, of course, to win! During this Teambuilding Game you lay the direct link to practice, accompanied by the necessary humour.
Recognise it? The zoo as a metaphor!
Companies and customers need each other, just as zoo managers, media agencies and safari parks need each other. Creating a win-win situation is the starting point. Everyone has to be better off for it. With a zoo as metaphor, the participants learn that setting up a good customer relationship is all about working together. Trusting each other, playing open cards and making proper agreements form the basis thereby. Fun is at the forefront during this Teambuilding Game, but a little wise lesson won't go amiss either?
Do you want all noses pointing in the same direction, from the stubborn meerkats within your company to the sensitive chameleons, so that even the lion and hyena can get through a door together? Then think about 'Manage the zoo'. In the evaluation of this Teambuilding Game we can, if that's what you want, go into more depth on the goals you've set and make a clear link to your operational practice. We can adapt this Teambuilding Game as you want it, so that it fits optimally with your business and your employees. Ask us without obligation about the possibilities or a customized offer. Or check out our examples and see how other companies experienced it!
Business at the Zoo is possible as an overall program, but is also excellent as part of your conference, meeting and kick-off event program.
'Business at the Zoo'
can be organised at any Zoo. Besides organising the game we can also arrange the location and catering.
Business at the Zoo is possible at:
• Ouwehands Dierenpark, Rhenen
• Artis Zoo, Amsterdam
• Burgers Zoo, Arnhem
• Dolfinarium, Harderwijk
• GaiaZOO, Kerkrade
• Noorder Dierenpark, Emmen
• Dierenpark Amersfoort
• Diergaarde Blijdorp, Rotterdam
• Safaripark Beekse Bergen, Hilvarenbeek
• Avifauna, Alpen a/d Rijn
• Antwerpen Zoo
• Own location
It is also possible to organise a Teambuilding Game on your own loaction. For instance at your office, in a meeting room organised with your own preferences.
From 8 to 1000 persons
The Business game 'Manage the zoo' gave our department a terrific afternoon with fun, drive and energy. The organisation was just fine, the support fantastic and the location provided with all conveniences and ideally suited for the game. Altogether a super mix between play, a learning element and relaxation.
Fill in the contact form stated below and receive more information on this Business Game.