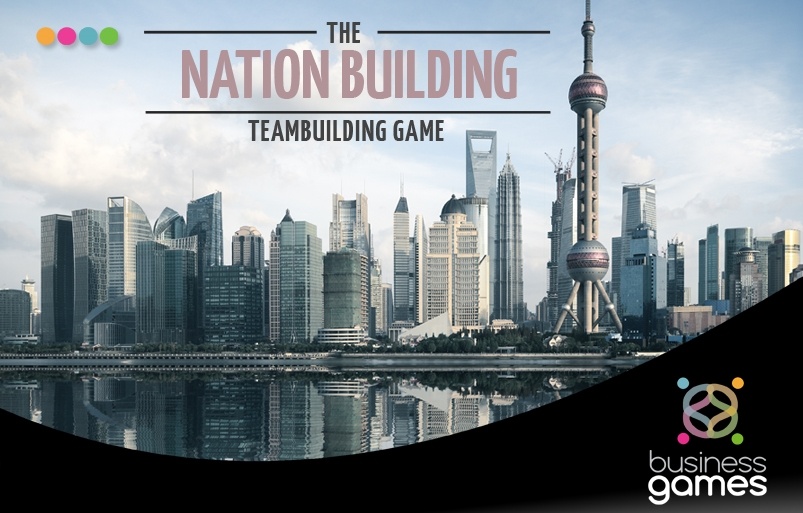 Teambuilding Game: The Nation Building Game
Recognise it?
During the Teambuilding Game 'The Nation Building', the participants are divided into different teams that do battle with one another. Each team represents a country. The goal is to turn their country into a prosperous one where the people are happy. To achieve this they have to acquire certain assets (schools, hospitals etc.). These can be acquired by negotiating with other teams, so the teams have to work together to achieve their goals! Afterwards, the teams can literally build up their country with 'Kapla blocks' on a huge map.
To be successful in this game, not only is good collaboration within the team important, but also communicating clearly and negotiating successfully with the other teams. Because without good collaboration among one another various incidents will threaten the country's prosperity and result in its extinction. And that's something you certainly want to avoid in the real business world too!
The Nation Building Game as a metaphor!
Almost all organisations consist of multiple teams and/or departments, the countries in this game model, who not only have their own targets, but also have to work for a common goal. When teams or departments in the real business world work poorly together, this leads to friction and tasks and goals are missed. By using a Teambuilding Game as a metaphor for your own organisation, your employees learn that working together is crucial if they are to be successful. And that in a fun and challenging manner with their sleeves pulled up.
From 5 to 5000 employees, from work placement student to director, everyone joins in during this live game where it immediately becomes clear who you don't play games with and who goes that extra mile for his country. Want your team to share this unique experience too? Then contact us. Customizing is also possible. Just ask us about the possibilities.
The Nation Building is possible as an overall program, but is also excellent as part of your conference, meeting and kick-off event program.
The Nation Building game can be organised at any location. We are more than willing to help you find an inspiring location. It is also possible to organise The Nation Building game in the business' own conference room or office.
from 5 to 5000 contestants
This is to tell you on behalf of my colleagues that we found the game on 11 September really fun and informative. I've heard nothing but enthusiastic reactions. About the game, the support, the setting, simply everything.
Hats off!

Contact us for more information, fill in the contact form or call +65 6223 7221